Edgecombe, David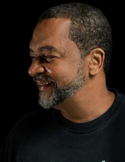 David Edgecombe developed his passion for theatre and the spoken word growing up on Montserrat where he wrote and directed plays and produced concerts as a schoolboy. He was the founder of Islands the Montserrat Theatre Group, which toured many Caribbean including Antigua, St. Kitts, Barbados, St. Thomas, St. Croix and Cuba. From that beginning, he has become a major force in ensuring that plays are now a prominent part of Caribbean literature. He has written over a dozen plays which have been staged throughout the Caribbean, in Canada, and in Nigeria. His plays, whether humorous or dramatic, take a subtle yet acute look at Caribbean domestic life, politics, and social issues.
While studying in Canada, Edgecombe served as resident playwright/director of the Black Theatre Workshop of Montreal, which gave major productions to four of his plays. He became Canada's Administrator for the Second World Black and African Festival of Arts and Culture (FESTAC) and was commissioned to write a play based on the works of novelist Austin Clarke. The play Strong Currents became part of Canada's contribution to that world event.
Edgecombe joined the faculty of the University of the Virgin Islands in 1990 to teach English and was artist-in-residence in 1991 when UVI Little Theater premiered his play Heaven and took it on tour to four other Caribbean islands. He also taught Journalism, Speech Communication and Theater before becoming Director of the Reichhold Center for the Arts for 14 years. As head of the RCA, Edgecombe found many innovative ways of encouraging the creativity of Caribbean youth, starting such noteworthy programs as The Reichhold Caribbean Repertory Company, The Digital Video Institute, The Youth Movie Making Workshop and Starfest. By producing its own  shows, partnering with community groups, providing work opportunities for artists and technicians, expanding into television, the Center has become one of the most significant forces in the promotion of arts and culture in the Virgin Islands.
At the time of this release, David Edgecombe is a full-time professor in the College of Liberal Arts & Social Sciences, University of the Virgin Islands.
Other Plays by David Edgecombe(with date of first production)
For Better For Worse (Montserrat 1973)
Making It – Originally titled Sonovabitch – (Montreal 1975)
Strong Currents (Nigeria 1977)
Coming Home to Roost (Montserrat 1978)
A View From the Bridge (Montserrat 1979)
Kirnon's Kingdom (Montserrat 1981)
Heaven (St. Thomas 1991)
Marilyn (St. Thomas 1992)
Smile, Natives, Smile (St. Thomas 1999)
Kill The Rabbits (St. Thomas (2012)
Email: edgecombe@icloud.com