Gegele, A-dZiko Simba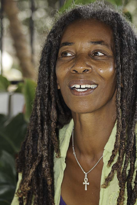 A-dZiko Simba Gegele s a writer, storyteller and spoken word artist whose work covers diverse genres including prose, poetry and scriptwriting for theatre, radio and television. Simba's work speaks on global themes of societal inequity, oppression and environmental abuse as well as intimate themes originating from personal experience. She uses her creativity to agitate for a saner world, founded on spiritual precepts of truth, righteousness and love. A CD collection of her poetry and word-songs, Crazi Ladi Dayz [Jump and Fly Jamaica] was published in 2004 and her recent debut novel, All Over Again [Blouse and Skirt Books, Jamaica], won the inaugural 2013 Burt Award for Caribbean Literature in April 2014.
Born in London, England to a Nigerian father and Jamaican mother, Simba's early experiences of racism and disconnection from her ancestral home underpin much of her work, as does her five years subsequently residing in Montserrat. Montserrat, an island located in the Eastern Caribbean, is known in contemporary times for the dramatic awakening of its Soufriere Hills volcano. Living under this active volcano provided Simba an unexpected lesson in the impermanency of life and the futility of attachment to material possessions. Her semi- nomadic existence continues as she lives in Jamaica, her home since 1998, where she travels throughout the island exploring, writing, performing, and experiencing  Jamaica's rich historical and cultural heritage. These encounters provide a grounding for Simba's work as she connects with her ancestral roots and acknowledges her role as a conduit for 'the words of The Ancients'. As she says – 'The Supreme Creatorand The Ancestors are the source of all of my creativity; I am simply a channel.'
Recognized as a dynamic force on the Jamaican spoken word stage, The New York Times [June 2003] announced, after Simba's performance at Jamaica's Calabash Literary Festival, 'She was a knockout.' Simba has performed spoken word, 'choreopoetry' and drama in theatres throughout the Caribbean, in England, Germany, and New York. Her written work has been featured on Jamaican, Caribbean and BBC television and radio, on Australian radio, appears on the American Academy of Poets website and has been anthologized internationally in such collections as The Harvard Review [2014 Issue 45,] Jubilation [2012 Peepal Tree Press, England], Jamaica Gold Anthology [2013 Pelican Publishers Ltd, Jamaica] Iron Balloons [2006 Akashic Books, USA], So Much Things to Say [2010 Akashic Books, USA] and Poui [Annual anthology of creative writing published by University of the West Indies]. She is a member of The Poetry Society of Jamaica and Jamaica's Calabash Writers' Workshop and has been awarded residencies at The Corporation of Yaddo, Saratoga Springs, NY and The Cropper Foundation, Trinidad.
Ms. Simba Gegele currently lives (mostly), in a fledgling eco-village in the mountains of St. Thomas, Jamaica but can be persuaded to don a backpack and her traveling muse for a worthy cause.
Contact: writegegele@gmail.com