Golden, Nerissa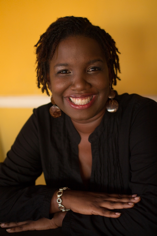 Nerissa Golden holds B.A. in Communications from the University of Tampa and is an award-winning media strategist, business coach, writer, a dynamic speaker, and visionary.
She was named one of TechLink's 2013 Caribbean Innovators for her work in technology advocacy, education, public awareness and innovative solution implementation. As the CEO of Goldenmedia, Nerissa develops cutting edge communications strategies for her clients in the  public, private and non-profit sectors.
She is the author of three books for adults: Like. Follow. Lead. Mastering Social Media for Small Business; The Making of a Caribbeanpreneur: Strategies for Overcoming Fear and Building Wealth as well as Truly Caribbean Woman's Guide to Good Love. Island Days is her first book for younger readers, a colourfully illustrated poetic collection of memories of growing up in the Caribbean.