Watson-Grant, Roland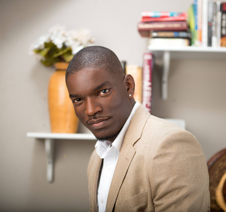 Jamaican-born Roland Watson-Grant grew up in the early 80s in a swamp at the edge of the capital city, Kingston. A former English Teacher and a Creative Director for over a decade, he used both skills  to bring characters to life, writing campaigns for three of Jamaica's leading advertising agencies. In 2011, Roland introduced some characters to the world-stage when he was named a Lightship  International Literary Prize Winner in Hull England for his short story Sketcher.
The following year the London publishing house, Alma Books, offered him a book deal to turn his short story into a full-length novel of the same name, the narrator of which is an insightful 9 year old. Set in a south Louisiana swamp with many parallels to the one in which Roland grew up, the novel has been described by the author as "funny, sad, and a meeting of  magic and logic".
Published in London in 2013 to critical acclaim from the Times London, The Spectator, The SydneyMorning Herald, The Independent and Bookseller Magazine, Sketcher was shortlisted for an Amazon Rising Star Award and a Turkish version, titled Eskizci was released in Istanbul in October of  2013. Other foreign translations are in the works. The June 2014 issue of Ebony Magazine listed Roland as one of "6 Caribbeana uthors to Discover" for the summer. Sketcher was included in GQ Magazine Australia's Essential Summer Reading List this year. The sequel to Sketcher, entitled: Skid, was published by Alma Books in June this year as part of the Swamp Trilogy, with the third novel in the works.
The themes in Sketcher sets the tone for Roland to talk about the beauty to be found in broken things.  Everything breaks: families, relationships, even our identities as Caribbean people are in pieces, but what a mosaic it makes.